These are some key points to consider when selecting a Fixed Head Rotary Clothes Hoist
The fixed head rotary clothesline hoists are fixed into the ground and can not be folded up when not in use. If you require this type of Clothes Hoist, the Folding Head Rotary will be a more suitable option. The most commonly know product is the Hills 6 and 7 Line Heritage Hoist which can still be found in many back yards today. This is still one of the most popular fixed head rotary clothes hoists on the market today.
How many people in your family or do you wash for
How often do you wash
What are the wash load sizes you have
How much space do you have available in your garden
Allow at least 500mm around the outside of the Clothes Hoist
The number of lines you would like (often dictated by the above)
The sheet size you would like to hang on it
In addition to the above the type of installation you want to carry out should be considered, you can see more detailed information on the Installation Guide page
Clothesline Product Ctagories
Clothes Hoist Installation and Removal Services
If you are looking for a professional clothes Hoist or Clothesline installation or installation and removal service, we have you covered. Our professional clothesline installers can install your new clotheslines and remove and take your existing one if required.

For all the details of what's included in the clothesline installation and removal services and to see if your area is covered , click here for more detailed information on the installation service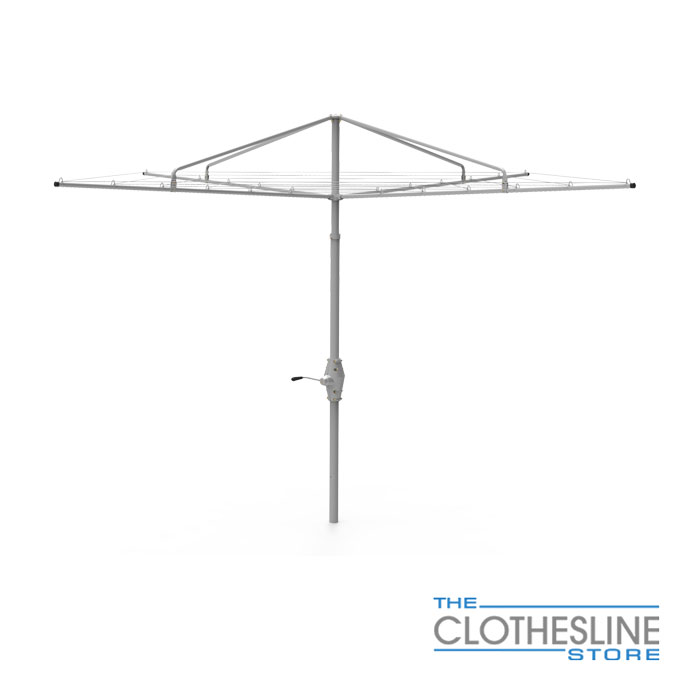 Hills Heritage 7 Line Rotary Hoist Fixed Head Clothesline
he Hills Heritage 7 line is an Australian classic, it has enough hanging space to suit a medium to large families with 49m of line space to optimise quick drying! This fixed clothesline is quality through and through, made with an aluminium and galvanised steel construction. You can purchase with the knowledge and confidence of securing a quality clothesline with a long life span!
Formerly known as the 'Heritage 5'
Benefits
Suitable for 4 - 6 people
49m of line space
Rotary Head Diameter 4.5m
7 strong galvanised wire lines
Outside lines hold KING SIZE SHEETS, NOTE: sheets vary in size and they may be scrunched up when on the line
10 year warranty
Alway in Stock & Free Delivery at The Clothesline Store
Trevor is showing his new Hills Hoist 7 Line Rotary Clothesline from The Clothesline Store
Natalie is showing her new Hills Rotary Folding Hoist purchased from The Clothesline Store
Shona From Alexandria is showing her new Hills Portable 170 From The Clothesline Store
Amy from Terrigal is showing her new Hills Portable 170 Folding Hoist purchased from The Clothesline Store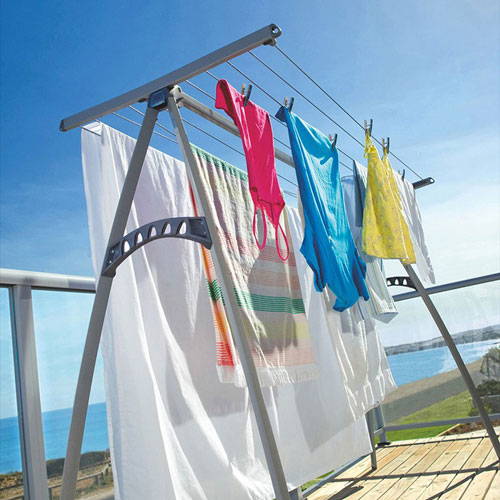 Featured Product
Hills Portable 170 Clothesline
Hills Portable Clotheslines are an innovative indoor-outdoor drying solution that bridges the gap between conventional outdoor clotheslines and indoor clothes airers. These clotheslines handle a full wash load – even sheets (hanging over the ends) – and are tough, durable and look great too. 10 lines giving 17 metres of line space plus you can simply increase the hanging capacity by using the built in coat hanger holes.
Suitable for balconies, patios, carports, garages, living room's etc. Made by Hills an Australian icon.

Benefits Include:

Coat Hanger Holes to increase drying load
17m of line space, 10 Evenly spaced lines
Stable and strong
Easy to move, Folds up flat when not in use
Ideal for extra drying space
Suitable for a 1-3 person wash
Lightweight design
Free Delivery at The Clothesline Store