If you are looking for a clothesline, clothes hoist or washing line in Maroubra 2035 NSW, we have you covered. You have access to the highest quality products from all the leading brands.

To ensure all products are processed and despatch in a rapid manner, we hold the largest stock holding of quality clotheslines by all the leading brands in Australia at our National Distribution Centre.

The brands you have access to include the entire range on the iconic Hills Clotheslines and Hoists , Daytek, Austral Clothes Hoists , Brabantia, Kitchen Made, City Living, Retractaline, and Air Dry to name a few.

As an Australian owned and operated business we offer a number of Australian made brands available also, these include City Living, Air Dry and Austral.
Also if you want your clothesline installed or your existing one removed and the new one installed, we have a team of professional installers standing by. You can see more details on this below.

So if you live in the Maroubra 2035 NSW area and looking for a clothesline or Clothes Hoist solution we have you covered. If require any additional information contact our locally based support team on 1300 509 564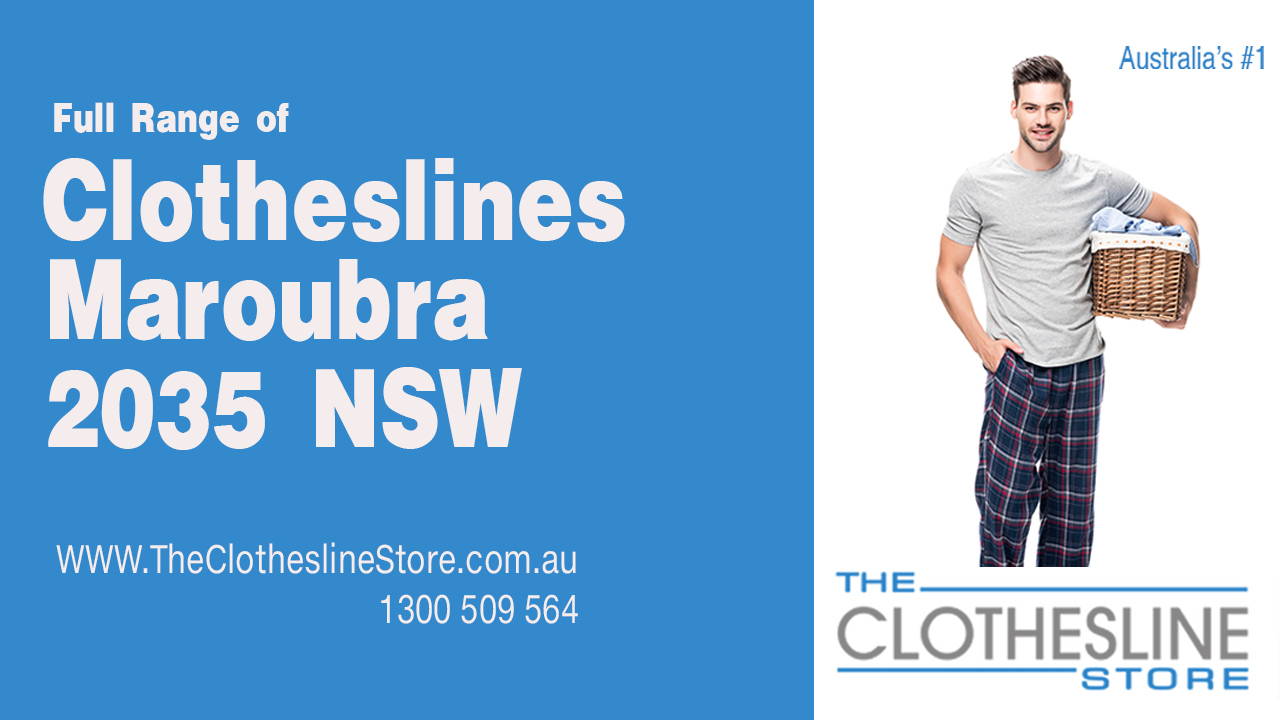 Shop Popular Categories For Maroubra 2035 NSW
For Your Clotheslines & Installation For Maroubra 2035 NSW
Popular Clothesline Categories
Fixed Rotary Clothes Hoist: This range includes the traditional Hills Hoist which has a fixed head with a metal framed which can not be folded or removed, click here for more details

Folding Rotary Clothes Hoists: These are clothes hoists which come in multiple colours and the head can fold up when not in use and they can be removed from the ground also, click here for more details
Folding Frame Clotheslines: These are a very popular clothesline, they come in a large range of colours and sizes. They can be installed on a wall or be ground mounted saving a great deal of space in your home. Click here for more details

Ceiling Airers: These are a unique product and are excellent for saving space or having as a second line for those rainy days. Click here for more details
Retractable Clotheslines: These are ideal for narrow spaces or when space is a premium, you get a large hanging area and the ability to retract the line when not in use. Click here for more details

Portable Clotheslines: These are excellent as a second line or unit line and can be used indoors or out doors. Click here for more details
Clothes Hoist and Clothesline Installation Services
If you are looking for a professional clothes Hoist or Clothesline installation or installation and removal service, we have you covered. Our professional clothesline installers can install your new clotheslines and remove and take your existing one if required.

How it works:

When you order your clothesline you can select which service you require (some products do not have an installation option), once your clothesline order is processed you will receive the details on the clothesline installation professional who will carry out your installation.

You will receive your clotheslines prior to our professional installer coming to your address. We only install clotheslines which have been purchased from The Clothesline Store.

What Does Installation and Installation and Removal Include: For all the details of what's included in the clothesline installation and removal services, click here for more detailed instructions on the service


What Our Clients are Saying
Shona From Alexandria is showing her new Hills Portable 170 From The Clothesline Store
Elenas Son From Bunderm in Queensland Reviewing Their new City Living Clothesline from The Clothesline Store
Call The Clothesline Store on 1300 509 564