Introduction & Definitions
In these Terms and Conditions:
"we", "our" and "us" mean J P A Enterprises Pty Ltd ABN 271 0602 1505 trading as The Clothesline Store

"our Website" means the URL TheClotheslineStore.com.au

"you" and "your" means you, the customer.

"Goods" means any and all goods and/or services supplied by us to you from time to time, and as may be described on any invoice, receipt, or order forms as provided by us to you.

"Order" means any order for Goods, placed on our Website.

"Special Order" means any Order for Goods which is:

made to order,

specialised order; or
These Terms and Conditions together with your order and the order reference number provided to you constitute the entire contract between us and you for the supply of products. No other Terms and Conditions will apply.
Formation of Contract
You offer to purchase products from us through our website. Your offer is made by completing and submitting your order. Our acceptance of your offer is confirmed by us providing you with a reference number for your Order.

You are taken to have accepted and are immediately bound by these Terms and Conditions if you place on Order.

Each Order is a separate agreement.
Australian Web Site
We sell and deliver in Australia only. Sale and delivery are dependent on the product/s purchased and the delivery point.
Legal Capacity to Transact on the Web Site
If you are under eighteen (18) years of age, you cannot order via our website. By completing and submitting an order under clause 1, you warrant that you are aged eighteen (18) or over.
Processing your Order
Upon completing your order and submitting it through the checkout system, an order reference number will be issued to you via a confirmation email.

We will not process the Order until it has passed our internal validation procedures, for the purpose of preventing credit card or payment fraud.

Upon processing the Order and receiving payment we send you a confirmation email, which is your Tax Invoice.

We, along with our affiliates, reserve the right to: refuse service or supply of the products; terminate the contract and/or your account; remove or edit content from our website at our sole discretion.

If we cannot process the Order after receiving payment, we will contact you using the details entered at the checkout.

At our discretion we may contact you after payment to confirm you are the owner of the card.
Pricing
We always work to display products at competitive prices.

We reserve the right to modify prices published on our website at any time.

Time for payment for the Goods being of the essence, the price will be payable by you on placing an Order or in accordance with the payment terms on any invoice issued.

If there are any faults with payment amounts charged, we reserve the right to cancel a sale.

Payment will be made by electronic/online banking, credit card, bank card, or by any other method as agreed to by us.

We may accept payment through a third-party payment provider (including but not limited to PayPal, Afterpay, ZIP Pay), and if you elect to pay through these providers, you agree that you are bound by the relevant party's terms and conditions. We are not liable for any issues arising from you electing to pay through an optional third-party payment provider.
GST
All purchases include GST unless otherwise stated. GST is defined as goods and service tax as referred to in the new tax system (Goods and Services Tax) Act, 1999, as amended, and includes Act or Regulation that deals with GST. You must pay GST, without deduction or set off of any other amounts, at the same time and on the same basis as you pay the price. In addition, you must pay any other taxes and duties that may be applicable in addition to the price except where they are expressly included.
Availability
We maintain some inventory and work closely with our suppliers to ensure timely delivery of all orders. Products can be despatched from our internal store or the manufacturer direct. Stock availabilities quoted on the web site are accurate at the time of listing and may change without notice. In the event of a change that will exceed 14 calendar days you will be notified.
Processing
Orders placed on weekends or public holidays will be processed on the next business day.

Business days are Monday to Friday, excluding NSW Public holidays.

Payments are completed only after you successfully complete the checkout.

Your tax invoice is your proof of purchase and is required for any warranty claims with the manufacturer.
Delivery
Delivery of each ordered product/s can take up to 10 business days from the date payment is received. Any time or date given by us to you is an estimate only. You must still accept delivery even if late and we will not be liable for any loss or damage incurred by you as a result of the delivery being late. You are responsible for contacting the nominated carrier concerning delivery status, issues, or delays.

We will deliver each ordered product/s to the address that you have advised on your order.

We make every effort to deliver your ordered products within the estimated delivery time you have entered at the checkout. We will contact you prior to despatching the products to you if they are not being sent using a Courier or Mail.

You acknowledge that we utilise third party courier services to deliver products, and we are not responsible for actions or delay caused by the third party courier services.

The estimated delivery times for products are during business hours (9.00 am to 5.00 pm) Monday to Friday excluding NSW Public Holidays. After hours delivery is also available on selected products and locations.

Estimated delivery times may vary due to circumstances that are beyond our control.

If your order is sent via an Australia Post and the specified recipient is unable to accept delivery, an "Article Awaiting" card will be left at the premises and your order will be delivered to an Australia Post Office suitable to store your order. In these circumstances, delivery is completed by us at the time of despatch.

If your order is delivered by our courier service and the specified recipient is unable to accept delivery, a card with their contact details will be left at the premises. Please be sure to contacts them and arrange an alternative time and date for delivery, an additional delivery fee may be incurred.

If you need to change your delivery address after your order has been shipped, you will need to do so via the courier who is carrying your parcel. We cannot complete this for you and holds no responsibility for address changes not actioned correctly by couriers

If your address is outside our standard delivery area, there may be additional delivery charges for your product. We will contact you if this is the case.

If your address is not serviced by our nominated couriers, then we will not be able to deliver your product and will provide you a refund. This is because our delivery areas are governed by these third-party suppliers.

In the unlikely event your item is damaged in transit, or your delivery is missing components. You will need to notify us and provide images within Twenty-Four (24) hours of receiving your product. If we aren't notified within Twenty Four Hours (24) hours, we cannot replace or refund the missing/damaged items.
10 Title and Risk
Full title to and risk in the products will pass to you upon delivery from us and full payment. Title to those products, which are software, shall remain with the applicable licensor(s) at all times.
Cancelled Orders & Returns
You are responsible for checking any products in your cart prior to making an Order.
To the maximum extent permitted by law, you agree that you do not rely on our skill or judgment in relation to the suitability of any Goods for a particular purpose.
We will not accept a cancellation of an Order once we have provided you with the order reference number.

We also do not provide a refund, credit or replacement if you change your mind, make an incorrect choice, or failed to verify and accurately provide information when placing an order.

We may accept returns subject to our Returns Policy and our sole discretion.

If we, at our sole discretion, agree to accept a return, any returns are to be sent back to our nominated address with the receipt. You are responsible for any costs associated with the return of any Goods under this clause 11 (including but not limited to postage costs and insurance). We are not responsible for any returned product and (subject to our discretion under this clause,) will only process a credit when the product is received. Any credit will only be for the costs of the Goods and will not include postage and handling costs.

We are not responsible for the carriage of Goods which are being returned and you acknowledge and agree that you are responsible for insurance and tracking to facilitate the return of any Goods.

A Special Order will not be accepted for return.
Faulty, Damaged or Defective Products
A product is considered faulty if it does not work when first taken from its packaging or if it shows signs of failure within 7 days of delivery.

If you receive a damaged or faulty product, we will arrange for it to be either repaired or replaced for you. A refund may be paid if the product is no longer available.

Products damaged during transit must be reported to us within 24 hours of receipt of the product.

If you receive a product that you believe is defective, you are to immediately contact our Customer Service Team on 1300 509 564. We may determine that the product is defective over the phone, this excludes Carton Damage. You have 7 days from the date of delivery to report a defective product.

If the product has been determined to be defective by us over the phone, we will arrange to repair or replace the product.

If we require the faulty product to be returned it will be at our expense, postage will not be covered if we have not requested its return in writing.

If the product is deemed by customer service/supplier NOT to be defective, we may, in our absolute discretion, refuse to replace the product or offer a refund.

We reserve the right to test any returned defective product. If the condition of the product was misrepresented to us by the customer, we may impose a $25 handling and administration fee.

Products must be returned in their original packaging whenever we request the product be return prior to giving a refund.

Where you receive a defective or damaged product by Australia post or our nominated courier, we may request you return the product to us. You are required to deliver the product to us using Australia Post or provide it to our nominated courier.

Where you have received a faulty, damaged or defective product by our courier service, we may request you to return the product and we will reimburse you for the shipping costs of the product.

Please ensure that all original items including packaging are returned.

It is your responsibility to ensure the goods are adequately packaged to ensure that they are not damaged during return delivery to our warehouse.

All electrical products are to be installed by a qualified installer, if they are not the warranty will be void on the product.

If found to be faulty a copy of the installers invoice and qualifications will be required to be sent to us.
When a Replacement Product is arranged
A replacement for the same product ordered will be delivered at our expense after we have received the original faulty, damaged or defective product.

The delivery time for the replacement product may be the same as stated for the original product.

Replacement products are provided with the same warranty as the original product in accordance with clause 16.
When a Refund is arranged
Refunds under clause 12 include delivery and associated costs for the defective product.

No refund will be processed until we have received the product from you.

Refunds will only be issued to the same credit card or debit card used for the original purchase.
Proof of Purchase for a Warranty Claim
It is important that you retain the tax invoice as proof of purchase. To request another, copy please contact our customer service team via email and include your name and order number.
Warranty if an item is replaced
This will be based on the manufacturer of your product. We recommend you contact the manufacturer direct for further information on their warranty terms and conditions.

All electrical products are to be installed by a qualified installer, if they are not the warranty will be void on the product.

If found to be faulty a copy of the installers invoice and qualifications will be required to be sent to us.

The warranty period applies from the date of the initial Order, and does not extend past that date if there is a replacement given under the warranty.
Warranty transfer
Warranty is only valid with proof of purchase of the original goods, which will be warranted as long as it complies with all other terms and conditions. We strongly recommend you review the Manufacturer's Warranty and in most cases it is NOT transferable.
Warranty Claims
For all warranty claims please contact us or the manufacture within the warranty period.

Warranty is valid within Australia only, however please contact the manufacturer in regard to international warranty.
Warranty Coverage
All items sold are covered by a minimum 12 months manufacturer's warranty.

Manufacturers Warranty is valid within Australia only and commences from the purchase date on your invoice.

All electrical products are to be installed by a qualified installer. A copy on the invoice will be required at time of any claims.
Extended Warranty
Extended warranties are available for nominated products only.

Details of our extended warranty product can be provided on request.
Our Liability
We shall not be liable in contract or in tort for any loss or damage suffered and consumer rights are limited to those set out in these Terms and Conditions and under statute.

To the extent permitted by law our total liability herein in respect of each event or series of connected events shall not exceed the total price paid for the purchase of products and/or services under these Terms and Conditions.

You shall indemnify us and keep us fully and effectively indemnified against any loss of or damage to any property or injury to or death of any persons caused by any negligent act or omission or wilful misconduct of the customer, its employees, agents or sub-contractors or by any breach of its contractual obligations arising out of these Terms and Conditions.

To the extent permitted by law, the parties agree that we will not be liable for products not being available for use, or for data or software which is lost, corrupted, deleted or altered. We shall not be liable to you for any incidental, indirect, special or consequential damages, loss of opportunity, loss of revenue, loss of profit or anticipated profit, loss of business, loss of contracts, loss of goodwill, loss arising out of business interruption, loss arising out of or in connection with pollution of contamination arising out of or in connection with the purchase, use or performance of Goods, even if we have been advised of their possibility.

To the extent permitted by law, any typographical, clerical or other error or omission in sales literature, quotation, price list, acceptance or offer, invoice or other documents or information issued by us shall be subject to correction without any liability on our part.
Your Personal Information
Please refer to the JPA Enterprises Pty Ltd Privacy Policy to see how we collect use and protect your personal information.

You agree for us to collect personal and sensitive information to enable us to provide Goods to you.

We may collect information from you, or a person authorised to provide this information on your behalf.

You warrant that, where you provide us with personal information about another person, you have ensured that you have advised the third person what information was provided, and that you have their consent to do so

You hereby provides your written consent to us to disclose your personal information to people or organisations in Australia where required by law or to deliver the Goods.
Credit Card Fraud
When noted on our web site we employ the latest in Secure Sockets Layer (SSL) technology and use Eway secure payment gateway, we will not be responsible for any damages, consequential losses (whether direct or indirect) suffered by a customer whose credit card is fraudulently used or is used in an unauthorised manner.
General
You shall not assign any rights and obligations under these Terms and Conditions whether in whole or in part without our prior written consent.

Any unauthorised assignment shall be deemed null and void.

If any provision of these Terms and Conditions is held by any competent authority to be invalid or unenforceable in whole or in part, the validity of the other provisions of these Terms and Conditions and the remainder of the provisions in question shall not be affected thereby.

Under the Australian Consumer Law, where implied conditions and warranties cannot be excluded, any liability of us for breach of such conditions and warranties (other than a condition or warranty implied under the Australian Consumer Law) shall be limited, at the option of us, to the replacement of the Product(s) or the re-supply of the same Product(s); the payment of the cost of replacing the Product(s) or of acquiring equivalent Product(s).

No failure or delay on our part in exercising any power or right under these Terms and Conditions operates a waiver, nor does any single or partial exercise of any power or right preclude any other or further exercise, or the exercise of any other power or right.

We reserve the right to change the Terms and Conditions at any time.

No employee or agent of us has the authority to vary any of the Terms and Conditions governing any sale.

The contract cannot be changed unless agreed to in writing or by e-mail.

These Terms and Conditions shall be governed by and construed in accordance with the laws of New South Wales and shall be subject to the non-exclusive jurisdiction of the courts of New South Wales.
You warrant that you has the power to enter into this agreement and that you have obtained all necessary authorisations to allow you to do so, you are not insolvent and that this agreement creates binding and valid legal obligations on it.
Force Majeure
We shall not be liable for any delay in performing any of obligations under these Terms, if such delay is caused by circumstances beyond our reasonable control, and we shall be entitled to a reasonable extension of time for the performance of such obligations.
Currency
All listed prices on the web site including shipping costs are in Australian dollars (AUD).
Deposits
Any deposits or paid for any products or services by us are non-refundable.
Security
We use (when stated) a secure 128-bit SSL (Secure Sockets Layer) certificate which is a globally accepted technology. This helps our customers confirm our website is secure. SSL certificates secure our customers online transactions by encrypting credit card and personal information and providing a safe route of communication for your online payments.
Installation
You acknowledge and agree that:
It is your responsibility to ensure the surface for the clothesline installation is suitable. It is your responsibility to ensure the ground where the location of the Goods to be installed is clear of any services, pipes, or any other materials. Should installation not be able to be carried out due to obstructions, a call out fee will be charged.

A call out fee will be applied if:

the installer arrives on site and there is no one at the site to nominate the location of the Goods (therefore the installation will not be carried out). In addition a new appointment required.

an installation appointment is cancelled less than 24 hours before the installation was to take place, there will be a call out fee charged.
Clothes Hoist and Clothesline
Installation Services
If you are looking for a professional clothes Hoist or Clothesline installation or installation and removal
service, we have you covered. Our professional clothesline installers can install your new clotheslines
and remove and take your existing one if required.

This service is available throughout the Campbelltown, Camden and the Macarthur region,
click here to see if your post code is covered.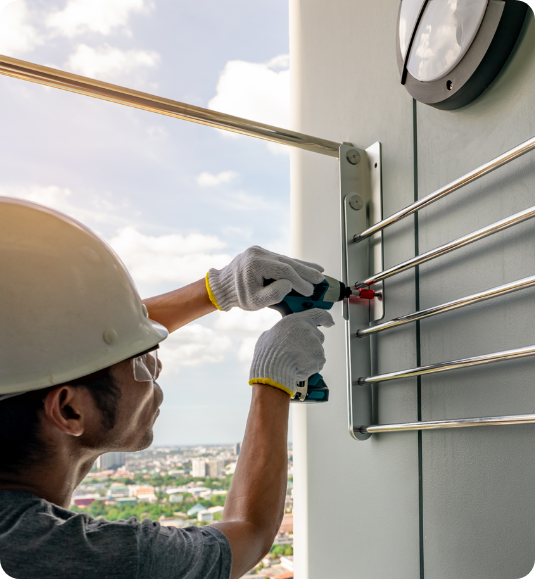 How It Works
When you order your clothesline you can select which service you require (some products do not have an installation option), once your clothesline order is processed you will receive the details on the clothesline installation professional who will carry out your installation.

You will receive your clotheslines prior to our professional installer coming to your address. We only install clotheslines which have been purchased from The Clothesline Store.
What Does Installation and Installation and Removal Include:
For all the details of what's included in the clothesline installation and removal services, click here for more detailed instructions on the service.