Shona from Alexandria NSW 2015 is reviewing the very popular Hills Portable 170 Folding Clothesline. If you are looking for a new clothesline The Clothesline Store has a solution for you.

You have access to all the leading brands names such as Hills Hoists, Hills Clotheslines, Daytek, Austral, Air Dry, AirPex and City Living for more information call on 1300 509 564.
Points To Consider When Buying a Portable Clothesline
Some Valuable Resources
If you have any questions, see our frequently asked questions page for details
If you are not sure what line will suit, download The Clothesline Stores Official Buyers Guide
See our how to videos showing you how to install a clothesline plus other useful tips by

clicking here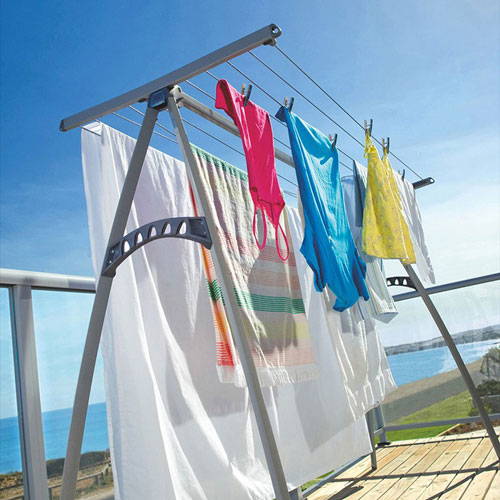 Featured Product
Hills Portable 170 Clothesline
Hills Portable Clotheslines are an innovative indoor-outdoor drying solution that bridges the gap between conventional outdoor clotheslines and indoor clothes airers. These clotheslines handle a full wash load – even sheets (hanging over the ends) – and are tough, durable and look great too. 10 lines giving 17 metres of line space plus you can simply increase the hanging capacity by using the built in coat hanger holes.
Suitable for balconies, patios, carports, garages, living room's etc. Made by Hills an Australian icon.

Benefits Include:

Coat Hanger Holes to increase drying load
17m of line space, 10 Evenly spaced lines
Stable and strong
Easy to move, Folds up flat when not in use
Ideal for extra drying space
Suitable for a 1-3 person wash
Lightweight design
Free Delivery at The Clothesline Store